Presidential Palace Location
Located on Hung Vuong Street and Hoang Van Thu Street, in the heart of Hanoi, Presidential Palace is a building of three stories constructed by a famous French architect named Auguste Henri Vildieu. Bearing a strong resemblance to European structure, the Presidential Palace made it unique and outstanding thanks to gardens and orchard together with a Mango Alleyway enclosed.
Presidential Palace Architecture
The Presidential Palace is situated adjacent to the stilt house of President Ho Chi Minh, connected by the Mango Alley which is a 300 feet long boulevard where The President used to do morning exercise, or go for a walk after his working time.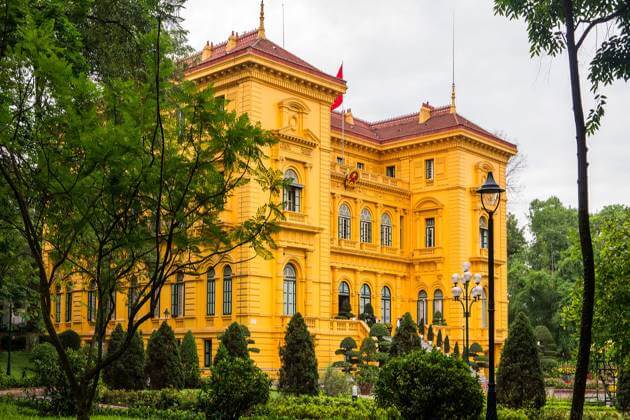 Covered with mustard-yellow color, the Palace has been regarded as a memento of French contribution to the grandeur of Indochina architecture so far. Under a conical structure, the building prominently displays French architectural style. The structure also bears parts of Italian Renaissance design used in 16th and 17th centuries in the architectural style of the second floor, clearly exhibited by a stairway ending in the arched portal, broken gables, intricate columns, and aedicule. Its gates are made of wrought iron and there are sentry boxes located at the entry of the palace.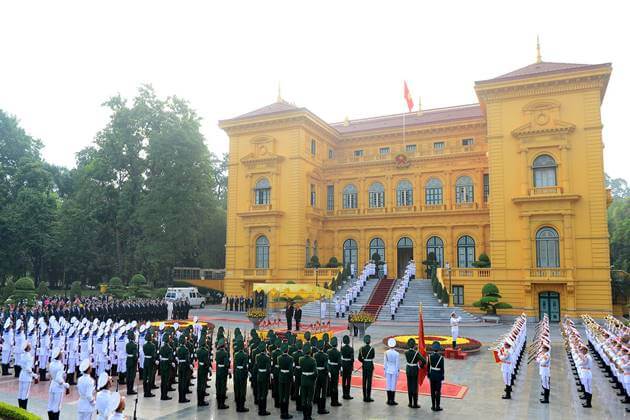 Being the founder of the Democratic Republic of Viet Nam but President Ho Chi Minh then refused to stay in this grandiose building and use a small stilt house instead. He also decided to use the Palace only when important guests came to Hanoi.
The palace now follows that old tradition that only offers a site for official receptions to important guests and for administrative meetings.