The Imperial Citadel of Thang Long is a compelling relic of Vietnam's history. The construction manifests its cultural and historical values and was made a UNESCO World Heritage Site in 2010. Also known as Hanoi Citadel, the area displays thousands of artworks and items dating back from the 6th century to 20th century. You can easily spend a few hours here to explore the grounds and archaeological objects just along the road.
History of Thang Long Imperial Citadel
In 1010, King Ly Thai To decided to move the capital of its empire from Hoa Lu to Thang Long or being called Hanoi nowadays. A new citadel was built consisting of a Forbidden City within two sets of walls. At the outer area was Imperial City (Kinh Thanh in Vietnamese) and Imperial Citadel (Hoang Thanh). Through many dynasties, the citadel still existed here with pavilions, pagodas, towers, and palaces.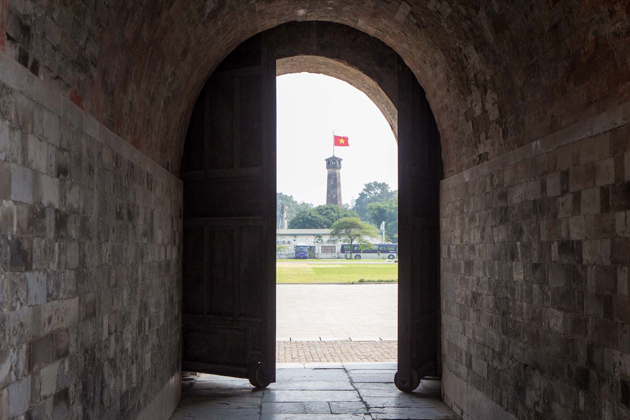 In 1805, King Gia Long decided to relocate the capital to Hue. The citadel was ruined and one of the buildings was replaced with French Vauban style. In 1897, as the French planned to build a new city, they destroyed the citadel and turned it into a modern quarter. After 1954, the area stayed as the head office of the Vietnamese People's Army until 1975.
Architecture & Highlights of Thang Long Imperial Citadel
Nowadays, on the ground still remains Hanoi Flag Tower (Hau Lau), remnants of the Kinh Thanh Palace, the Princess' Palace, the South, and North Gates.
In order to enter the citadel, you need to get across Doan Mon, the original main gate. From here, you will see several pathways with glass-covered archaeological dig dating back to the Ly So between 1428 and 1527. At 1.9m depth, some older bricks from Ly dynasty were discovered in 1999 excavation. In the courtyards, there sometimes have several contemporary art exhibitions and a permanent exhibition of relics. Walking inside, you will see the dragon steps of Kinh Thanh Palace. If you are more interested in history, D67 will not make you disappointed. Built in 1967, the tunnel was home of General Headquarters of Vietnam's Army. It was the office of some famous people in the history of Vietnam such as General Vo Nguyen Giap and General Van Tien Dung. The tunnel looks like a bungalow with flat roof with walls of 60cm thick so that it can protect the dwellers from bombing, magnetic interference or toxin filter.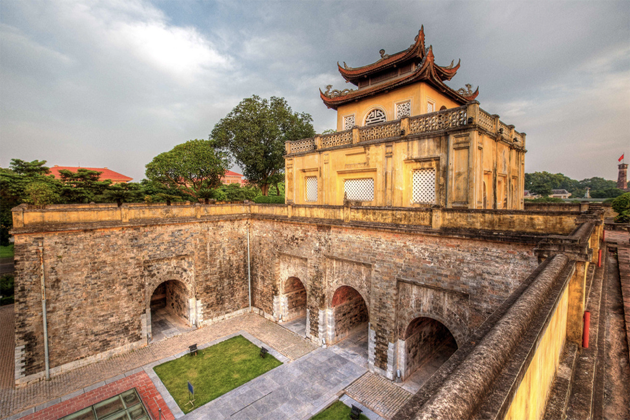 At the back side of the complex, you will see Hau Lau or Palace of Princess. The palace was constructed during the Nguyen Dynasty but it was partially demolished in the late 1800s. The construction then was rebuilt by the French. 18 Hoang Dieu is where the largest excavation happens. It can be approached by departing from the middle gate then crossing the main gate.
Top Tips before Visiting Thang Long Imperial Citadel
Address: 19C Hoang Dieu Street, Ba Dinh, Hanoi
Phone number: (024) 3734 5927
Opening hours: 8.00 AM – 12.30PM, 1.30 – 5.00 PM everyday except Monday
Ticket: VND 30,000 (~US$1.4)/ adult
Parking Fee: VND 5,000 for a motorbike
Tourists can combine a half-day tour by visiting some places of interest nearby such as Military History Museum, Quan Thanh Temple, Cua Bac Church, and Ho Chi Minh Memorial Complex.