Tran Quoc pagoda, located on the East side of West Lake, is regarded as one of the most ancient pagodas in Hanoi with more than 1,500 years bringing tourists back to 6th century during the reign of Emperor Ly Nam De Dynasty (544 – 548). Tran Quoc Pagoda is the Buddhist center with the architecture combining between the solemn and magnificent landscape on the peaceful ambiance of West Lake. Let Hanoi Local Tour be your guide and your partner as well to explore these historical and architectural values in Tran Quoc Pagoda in Hanoi, Vietnam.
History of Tran Quoc Pagoda – The Oldest Buddhist Pagoda in Hanoi
When Tran Quoc Pagoda was first erected during King Ly Nam De Dynasty, between year 544 and 548 on the bank of Red River (within Yen Phu Ward, Tay Ho District now), it was known as "Khai Quoc" (means opening a country). Until the 15th century, in the reign of King Le Thai Tong, it was renamed to "An Quoc" (means a peaceful country). Unfortunately, in 1915, a serious landside ingrained into the pagoda's foundation made the occupant of Government and people to move the construction of the pagoda to Kim Ngu island on the East of West Lake, that is the current location of Tran Quoc Pagoda as we see.
The renaming process has just stopped when the name "Tran Quoc" appeared (mean protect the country) in the King Le Huy Thong Dynasty (1681-1705). Through these old names of Tran Quoc Pagoda, we can see the wishes of our ancestors in this holy sanctuary.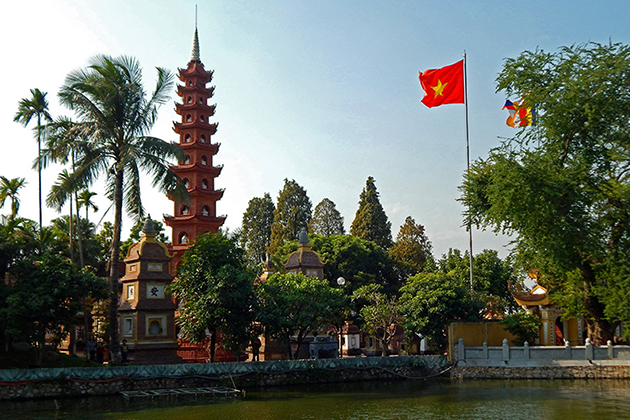 Unique Architecture of Tran Quoc Pagoda in Hanoi
The front gate facing Thanh Nien Road, the pagoda complex, surrounded by a tide of West Lake, is designed according to the strict rules of typical Buddhist architecture with the myriad of layers of buildings. In the complex, three main houses called Tien Duong, a house using for burning incense, and Thuong Dien. These rooms in Tran Quoc Pagoda have a connection to create a Cong script (工).
Standing from a long distance we can witness a highlight of Tran Quoc Pagoda, it is a high stupa erected in 1998. Do you know that the stupa is composed of 11 floors with 15m in height, and each floor has one vaulted window where holds a statue of Amitabha made of gemstone and on the top of the complex stands a nine-storey lotus, also a gemstone? The meaning of this correlation is that "The lotus represents Buddha while the Bodhi is a symbol of greatest knowledge".
Do not stop, Tran Quoc Pagoda is also a big collection of invaluable antiques dated thousand years old as worshiping statues on the front house. All statues in Tran Quoc Pagoda are engraved and polished carefully by skillful artisans, thus which all bare spectacular features. However, the most outstanding statue must be the statue of Thich Ca Thap Nhat Niet Ban, evaluated as the most beautiful statue in Vietnam.
Tran Quan Pagoda possesses many historical and architectural values, it becomes a worth visiting as a sacred sanctuary for Buddhist believers from both inside and outside Vietnam. Moreover, the pagoda is a must-visit destination for cultural explorers to Vietnam.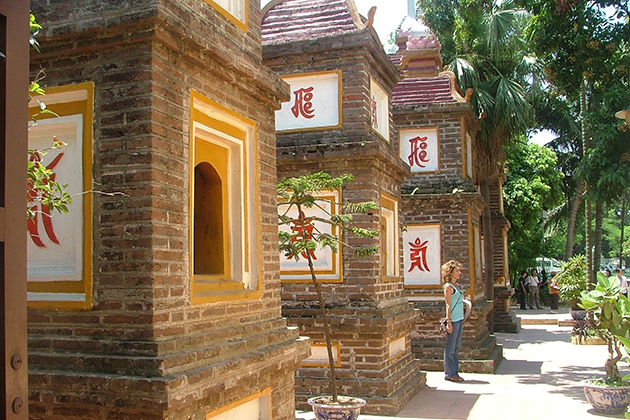 Tran Quoc Pagoda Opening Hours & Entrance Fee
Tran Quoc Pagoda opens daily 7:30 am onwards, the pagoda is free to enter all year long, although it gets packed with devotees during annual festivals such as Tet and Buddha's Birthday. Because the pagoda is a place of worship, travelers should dress conservatively out of respect for the monks and locals.
In addition, there is no entrance fee for visiting Tran Quoc Pagoda, thus tourists can visit anytime during the day until late in the afternoon.