Located in Son Tay Town, about 40 km to the West of Hanoi, Duong Lam Ancient Village with many beautiful 300-year-old houses becomes a very common tourist destination at the weekends. These ancient houses and the architectural features of a typical old Vietnamese village. Hanoi Local Tour will bring travelers to the trace back the origin of Vietnam's culture as well as Vietnamese traditions, which is a great opportunity to explore the ancient complex surviving during the time.
Visit The Ancient Houses in Duong Lam Ancient Village
Duong Lam Ancient Village is a commune in Son Tay Town, is the first-recognized ancient village in Vietnam, which has a history of about 1,200 years with a myriad of houses dating back up to 400 years. Nowadays, Duong Lam Village still retains most of the basic characteristics of a Vietnamese village with port village, courtyard, temples, trees, water fields… Moreover, the roads of Duong Lam are so special because their shape is similar to the bones of fish.
Duong Lam Village has 956 traditional houses, Dong Sang has 441 houses, and Cam Thinh has 165 houses and 350 houses in Mong Phu. These houses have been built for many years ago. These old traditional houses have a unique characteristic that is built from blocks of laterite.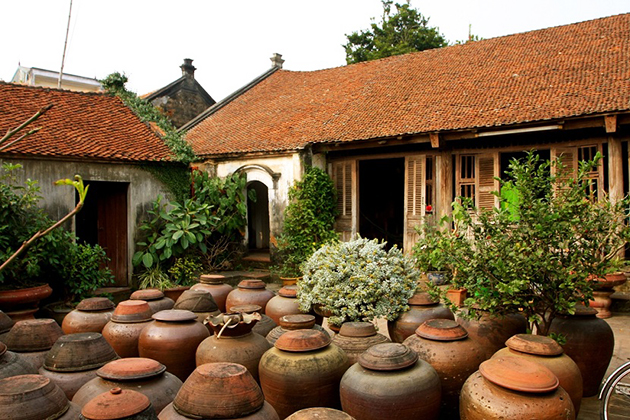 A communal house is a sacred place for worshipping the God – founder of the village. The Duong Lam ancient village consists of 5 villages, thus it has 5 communal houses. These communal houses were made attentively with sophisticated decoration details, which all are considered as a flower of unique sculptural architecture. Today, these ancient houses mentioned above are attractive to both foreign and domestic visitors.
If visitors are interested, they can choose Tay Phuong Pagoda as the following destination after Duong Lam Village. Tay Phuong was built in the 8th century and it is considered as the best option for a traditional pagoda in the North of Vietnam. Tay Phuong Pagoda is extremely special as it features 18 ancient Arhan Statues. Right then, tourists can stop to visit Van Phuc Silk Village in which they can see the production of the best silk in Vietnam. Another unforgettable memory for tourists that is learning about the silk-making process or shop for some silk products as souvenirs to take home.
Enjoy Authentic Meal With Local Host in Duong Lam Ancient Village
Tourists from any tours always want to experience an authentic meal which bringing the taste of the rustic meal and the Vietnamese spirit as well. Generally, these simple things in daily life usually create countless values about human and custom. Enjoy any special Vietnamese lunches which are prepared by the host is the indispensable part in your Hanoi Tour.
Particularly, while you are in the locals' house, you can also join the locals in producing their local specialties such as rice cake filled with brown onion, soft green-lentil cake (depending on which season you visit) and of course enjoy these dishes. Take pleasure in the local lunches and the hospitalities of the locals here certainly make visitors come back Duong Lam Village again.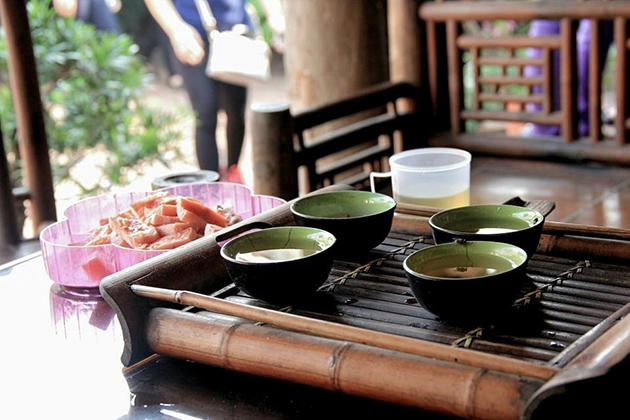 How to Get Duong Lam Village
It takes over an hour to get to Duong Lam, an ancient village in Vietnam. On the road leading to Duong Lam Ancient Village, tourists can feel the fresh air entering their head and peaceful atmosphere in every breath. You can refer the suggested tours visiting Duong Lam ancient village, explore the tranquil scenery here.
Besides choosing a tourism agency, travelers can go by themselves to get Duong Lam Ancient Village by taking a bus from Hanoi to Son Tay town, right after getting off, they can go by bicycle or motorbike to delve into the old village strongly imbued with architectural features of Vietnamese archaic villages with river wharf, banyan tree,..