This boat tour on the Red River will take you through the off the beaten path places of Hanoi to admire the views of paddy fields along the river bank. You also have the opportunity to stop off at some well-designed temples and in Bat Trang, famed for pottery products.
General Information
Known as the largest river in Northern Vietnam, the Red River has been an important water transport route of Hanoi. As a result, the existence of many flourishing traditional villages and temples gives no surprise to people.
Hanoi Red River Cruise Tour will take you to the two architectural temples built around 700 years ago: Dam and Dai Lo Temples which are dedicated to the Mother of Goddess. In addition, Chu Dong Tu Pagoda worships Chu Dong Tu – a usual man and his wife – a princess whose legendary love story was very inspirational.
About 13 km southwest of Hanoi, Bat Trang village is the most popular and long-established pottery village in Vietnam with hundred years old. As near the ancient trading port Thang Long and Pho Hien, the village was a vital place in the history of the porcelain industry in Asia. It houses local craftsmen who combine both traditional and modern techniques to create beautiful ceramic artworks.
Experience your Cruise Tour with
Guides: Hand-pick from our best guides, mature, acknowledgeable, all are licensed, great sense of humor
Drivers: friendly, responsible, reliable with many years of driving experience, door-to-door services
Vehicles: comfortable, spacious, air-conditioned, big windows
Tour Details
Duration: 1 Day
Date: Upon request
Start/End: Hanoi/ Hanoi
Active level: Easy
Tour route: Hanoi – The Red River – Dam and Dai Lo Temple – Chu Dong Tu Temple – Bat Trang Ceramic Village – Hanoi
Full Itinerary
7.30: You are picked up at the hotel lobby by our awaiting guide, then we transfer you to Chuong Duong Do wharf which is near the city center. Upon arrival, we will embark on our boat and set sails on the Red River passing through some rural villages in the outskirt of Hanoi.
9.30: After a slow cruise down the river, we will disembark to the scenic grounds of the Dam and Dai Lo Temple which was built under the Tran Dynasty. Back to our boat and continue sailing down the river to Chu Dong Tu Temple, which worships Chu Dong Tu, one of the four immortals in the traditional mythology of Vietnam.
11.00: Back to our boat and have a flavor lunch on the boat while you float further along the River.
13.00: Arriving Bat Trang Ceramic village, get off the boat and get on our bikes to ride around the back roads of the village. Stop at some local workshops to see how skillful artisans create their own ceramic and pottery products. You can give a try to making your own cap, vase or bowl and take them home.
15.00: Go back to our boat and sails back to Hanoi.
16.30: Our driver drops us at the hotel in Hanoi. Your Hanoi trip ends.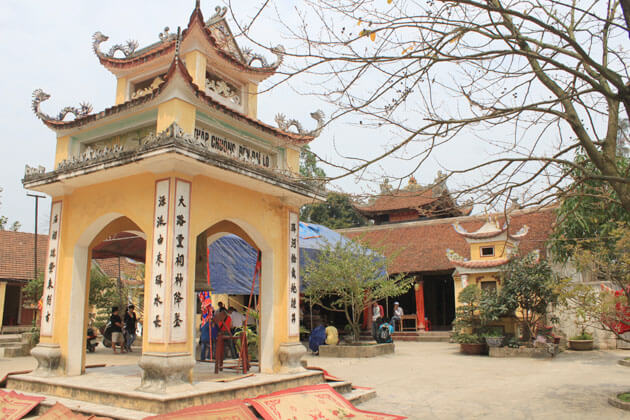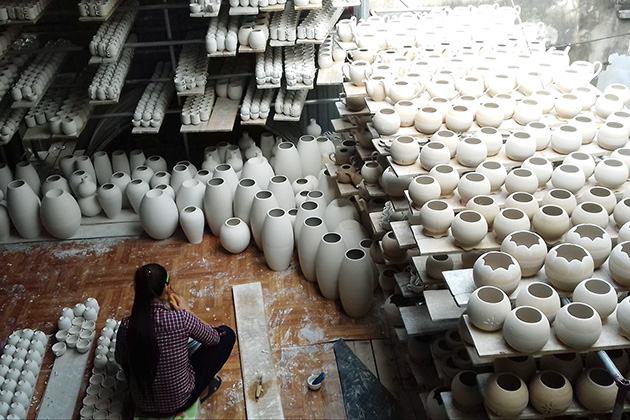 Red River Cruise Travel Guide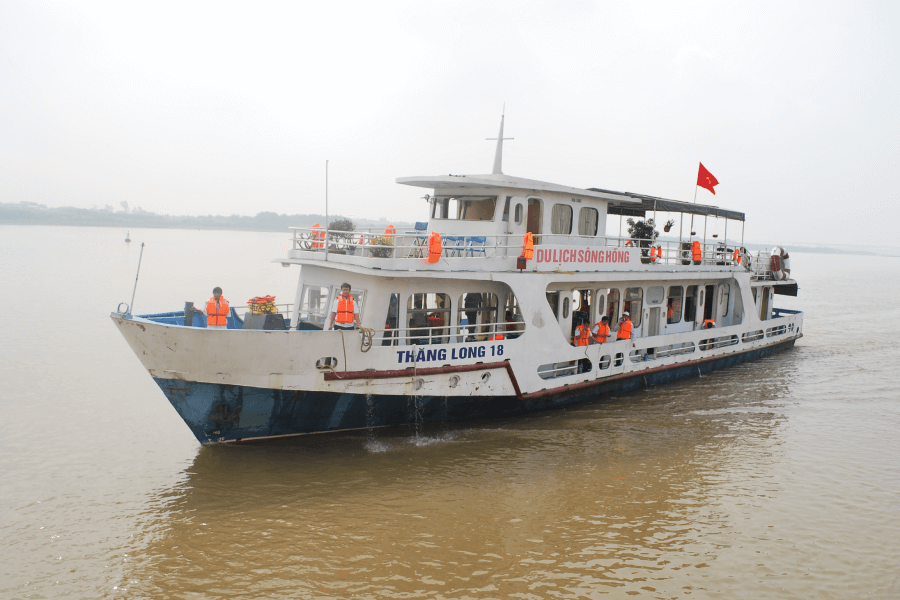 Hanoi Red River Cruise Tour – Hidden gems in Hanoi
In Red River tour, tourist will disembark to the scenic grounds of the Dam and Dai Lo Temple which was built under the Tran Dynasty. It can be said that Dam Temple is an ancient temple immemorial and is one of the few temples that still maintains the shape of ancient architecture. The temple is quite large with the old titled columns, open campus lush with over-hundred-year-old banyan tree.
Chu Dong Tu Temple is an indispensable tourist attraction in the Red River tour itinerary. This place preserves the legend of a love story and deeds of the Vietnamese people against foreign invaders. In addition to its unique architecture, Da Hoa Temple also preserves many rare relics, typically 3 wooden altars. These are considered the oldest thrones found in Vietnam today; a ceramic jar with a hundred characters of longevity, no words are the same…
Bat Trang Ceramic Village
This is definitely a great destination for you and your loved ones on our Hanoi Red River Cruise tour. Bat Trang Pottery Village is not only a place to preserve the traditional culture of Hanoi, but also one of the largest suppliers of ceramics in Vietnam. Experiencing many ups and downs of time, Bat Trang Pottery Village is today a very attractive tourist destination near Hanoi, attracting many people who want to learn about the pottery industry, as well as buy home ceramic products here.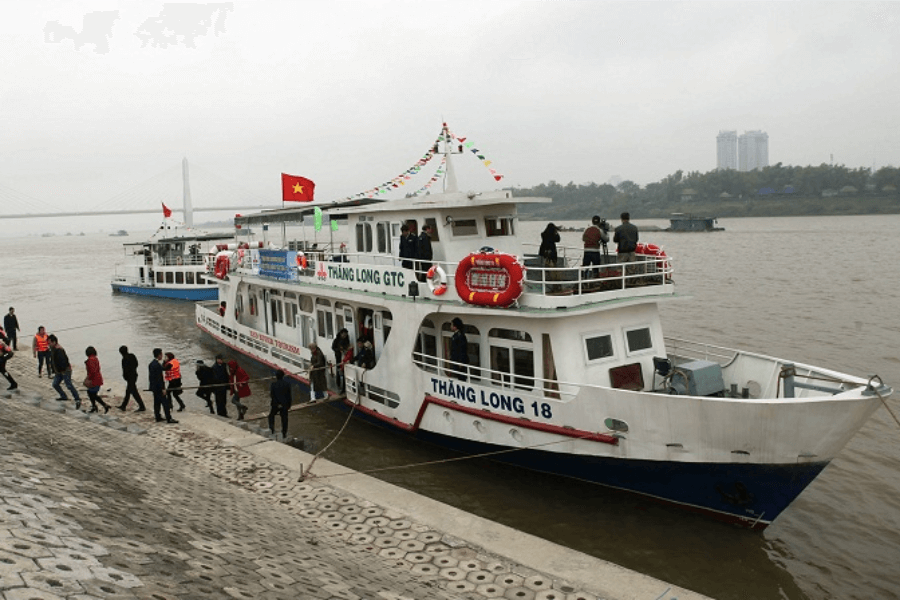 Hanoi Red River tour tips: Must read!
Booking through a reputable store
Make sure you book your tickets from a specialist placement to ensure your certain schedule to Red River tour.
Because our trip includes visiting historical locations and temples, please make sure to dress modestly and politely, but don't have to be formal, choose comfortable clothes that make you active all day. Also don't forget a pair of non-slip shoes to avoid slipping.
Tourists should note to bring the necessary items and collapse them into a backpack for the most convenience, when needed, you can take it out and use it. Watch out for that day's weather, if it's raining, remember to prepare a raincoat or umbrella to not get wet, you don't want to wear wet clothes to explore.
Grasping clearly information
About the time and gather placement to avoid affecting everyone's schedule. As well as, remember to save the contact information of the guide, to prevent getting lost during your ideal Hanoi Red River cruise tour.