General Information
Summer is the time of blooming lotus flowers. The flower is considered one of the four graceful plants, besides pine, bamboo, and chrysanthemum. Being the symbol of purity, commitment, optimism for the future, beauty, majesty and grace, lotus has also been voted as the Vietnam National Flower. The flowers fragrantly pour over every corner of the city, cooling the sizzling temperature down. The best place to enjoy the fragrance of the flower is Hanoi West Lake.
The Quang Ba Flower Market in Tay Ho district offers fresh flowers from nearby villages of Hanoi. Early opened at 02.00, the market houses rows of colorful daisies, cherry blossoms, roses, orchids and sunflower that can be purchased separately or arranged in bouquets.
Especially, established in the 13th century by a Chinese man, Yen Phu Incense village is an old-age craft village in Thang Long (Hanoi nowadays). Incense production was widely spread in this village thank to the prosperity of Buddhism and incense burning customs. Making incense requires a plenty of stages: whittling sticks, drying incense, collecting and packaging. Today, local people still preserve their own handed-down work though it is not a lucrative one.
Special Note: 
This seasonal tour is particularly designed for visitors to enjoy the elegant beauty of lotus flower that fully blossoms from May to the end of July every year. However, your requirement for taking this trip will be completed satisfied in other seasons by letting us know in your Hanoi tailor-made tour.
Tour Highlights
Get overwhelmed by an immense lotus landscape
Enjoy the gentle fragrance of lotus flower and lotus tea
Experience the bustling atmosphere of local market in early morning
Visit a centuries-old incense village
Airy ambiance at Tran Quoc Pagoda
Vietnamese must-try breakfast
Brief Itinerary
West Lake – Quang Ba Market – Yen Phu Incense Village – Tran Quoc Pagoda – Hanoi train street
Full Itinerary
5.00: Following the hotel pick up in early morning, we take a quick ride to West Lake – the mirror of Hanoi – to catch the beautiful sunrise and scenic sight of lotus flowers in the morning mist. Our guide will arrange us a small boat to see lotus blossoms, enjoy a cup of lotus tea or simply enjoy lotus fragrance at the lake.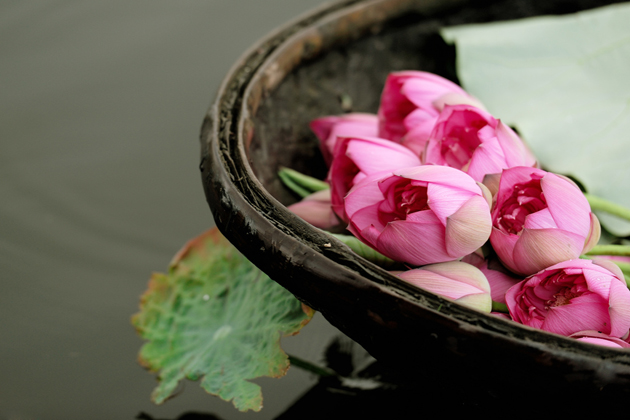 6.00: We browse Hanoi's busiest flower market – Quang Ba, which has already been bustling since midnight. We will have the chance to capture the images of Hanoi's famous colorful street flower vendors before sneaking through the narrow alley of Yen Phu. We then visit the ancient Yen Phu Temple and a few households of traditional Yen Phu Incense Village.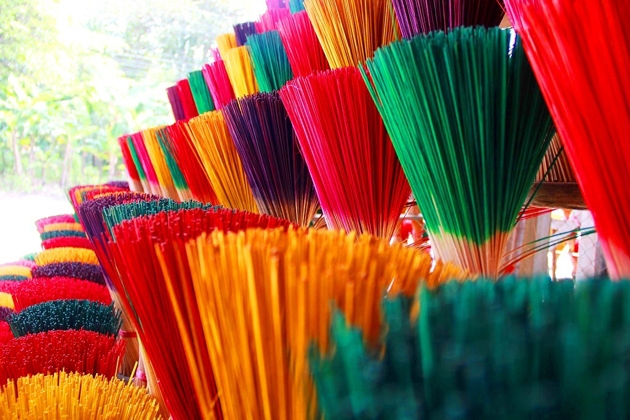 7.30: Continue to Tran Quoc Pagoda – the oldest pagoda in Hanoi located by the bank of the West Lake, we will enjoy the fresh air at the biggest freshwater lake of Hanoi.
8.30: Leaving the pagoda, it's time for breakfast like a local with the delicious noodle soup with chicken/beef (Pho Bo/Pho Ga) in pavement food vendors.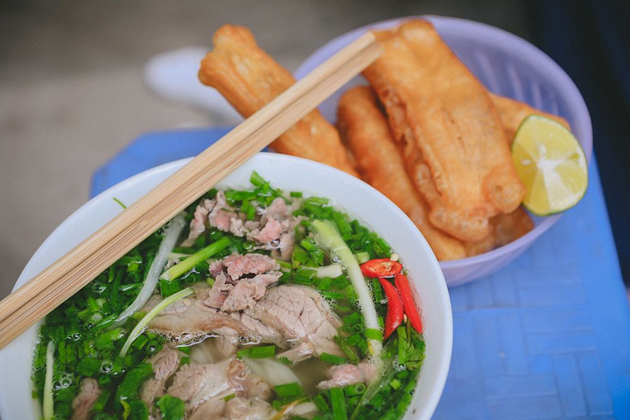 9.00: We then continue to the corner of Dien Bien Phu and Tran Phu streets to take photographs of the unique railway line, which runs through narrow streets. The train passes shop fronts and traders at about 09.17.
10.00: Trip ends.