Bao Son Paradise Park is an entertainment area combining the fields of economics and tourism. It's located on a large space, just 6 km far from the National Convention Center, in which the harmony between traditional and modern factors are quintessential and convergent. Actually, Bao Son Paradise retains the traditional cultural beauty, it is amazing heaven of art, culture, technology, and ecology, which all is the reason why it is said that Bao Son Paradise brings poetic beauty harmoniously between nature and man-made, ancient and modern. Let's Hanoi travel blog bring you this kind of recreational heaven in Hanoi.
Picture of Ancient Towns in Bao Son Heaven Park
As mentioned above, Bao Son contains a harmonious beauty between ancient and modern architecture. The ancient towns will focus on many living activities and even business activities in the pavement, reflect Hanoi ancient culture in the heavy rustic aspects of Hanoi. These ancient places are not only where preserve ancient Hanoi architecture but also convey the cultural and spiritual meanings of Hanoi thousand years of civilization to the present generation.
A traditional village in Bao Son is a complex of 10,000m2, where convergent and reappear the 15 renowned traditional villages of Vietnam. Especially, houses in these villages are dated from the late 19th century or early 20th century with many banyan trees belong with wells, temples, which all give tourists a tranquil space escaping from the noisy pace of modern life. Besides that, space also introduces the myriad of special products from the traditional villages such as Van Phuc silk village, Phu Lang Pottery Village, Bronze Casting Village, brocade of Thai People, Handicraft Bags Village, Gemstone Painting village,…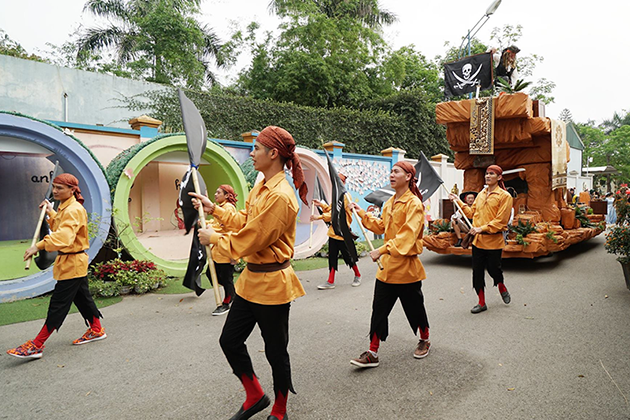 Vietnamese Culture Promoted in Bao Son Paradise Park
Besides the number of recreational activities, Bao Son also delivers tourists plenty of opportunities to learn about Vietnamese culture through the glimpse of the past lives of Hanoians in O Quan Chuong or dating back to the 19th or 20th century. In here, there stand many traditional products on showcasing in nearly 20 houses designed in traditional architectures from past in the Old Quarter.
Traditional craft villages in Bao Son Paradise brings the typical feature of craft villages, the image of banyan trees beside water wells and the communal houses recall these childhood memories in Hanoians as well as tourists from anywhere in the world. Moreover, folk performances are indispensable in the act aiming to promote Vietnamese culture and introduce them to the world as well.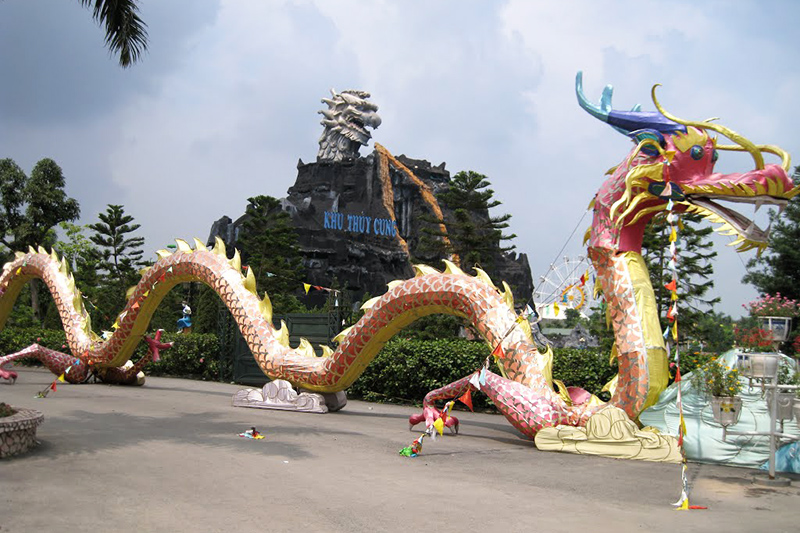 Bao Son Paradise Park Aquarium
Bao Son Park Aquarium is the first one in Hanoi built in a total area of 10,000m2. In Bao Son Aquarium Park, there stand unusual and unique sea creatures that live deep in the sea beyond the reach of light, thus they become more and more attractive in the eyes of visitors. Since when it was officially opened in 2008, Bao Son Paradise Park Aquarium quickly becomes the ideal place for people who want to explore marine life as well as the wonders of the ocean. The perfect arrangement of the wondrous world of sea features belongs to the majestic architecture designed to inspire and educate seems as mesmerizing tourists visiting here.
The marine world area is a block surrounded by an artificial mountain constructed according to advanced technology. The entrance of this aquarium park shows a model of the skate to welcome tourists to the wonderful land while its exit is complicatedly made in the shape of a shark with a large jaw of teeth. Get deeper in the aquarium park, the stairs lead tourists to the different floors well designed in a spiral shape and on the wall has some windows which are like stone caves. In the place which is called "dragon's head", visitors will have a panoramic view of the Bao Son paradise park aquarium. Besides that, tourists will be satisfied by the best performance of the seals, taking lots of nice pictures with the intelligent animals, and learn more about the aquatic biodiversity of the world, which all support a memorable experience.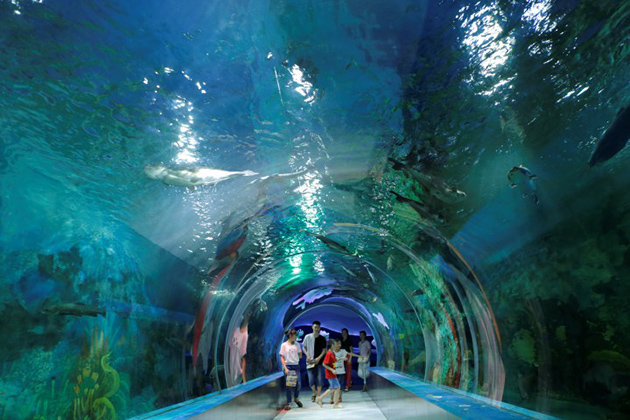 Bao Son Paradise Park Entrance Tickets & How to Get
Bao Son Paradise Park, area to explore the traditional art of Zoo, pool, amusement park, and aquarium as well, located in Hanoi, Vietnam. In details, Bao Son Paradise Park is on Le Trong Tan, An Khanh, Hoai Duc, and it takes about an hour away from the center of Hanoi.
It costs from 150,000 VND – 200,000 VND per ticket in normal days and from 220,000 VND – 270,000 VND in the weekend.
If you desire a wonderful holiday or a nice weekend, add Bao Son Paradise Park to your day trip in Hanoi, Vietnam using our guide.